"What need is there to weep over parts of life? The whole of it calls for tears."
~ Seneca

"I teach one thing, and one thing only - suffering, and the end of suffering."
~ The Buddha
Greetings, friends. I'm writing from Slovenia, and have some 'splaining to do, Lucy. My last blog post was in July, after I'd driven from North Macedonia to Croatia. Since then? Camping, hiking, seeing a group of friends in France (my first in-person group of friends for two years,) many van not-repaired-but-I'm-trying moments. I took a hot shower for the first time in two months a few days ago, since I was wild camping that whole time - more than usual. I started making a list of newsletters that I wanted to write but never managed to write, and had to add to it ones that I was sure I had written but didn't. It's a long list. I have a lifetime supply of posts I'll never get to.
Blathering completed. Enjoy the photos and stories below.
Love, Dave
Sep 10, 2021
Lovely people, I'm not dead yet, some some of you will be happy to know. It's Dolomites season here in the, uh, Dolomites, and I'm just starting this hike! Yay.
---
People say the Dolomites are beautiful. Yes they do. Julieta and I just had a delicious lunch at a rifugio with cold beer, local cuisine, nice desserts. There is really no equivalent in the US. But now we have to finish the second half of our hike, yikes.
---
Sep 11, 2021
Making friends on our second hike in the Dolomites, Julieta and I are hiking across the valley from where we were yesterday. We hiked along the base of those massive mountains in the distance. What an incredible place.
---
Sep 13, 2021
Today, hiking! The Dolomites are working for me...
---
Ja, as they say in German. Some years ago I was mad when I found out how spectacular the Dolomites are. "Why did no one tell me?!"
---
Sep 14, 2021
It's hiking o'clock. Across the valley is Cortina d'Ampezzo, ritzy and beautiful.
---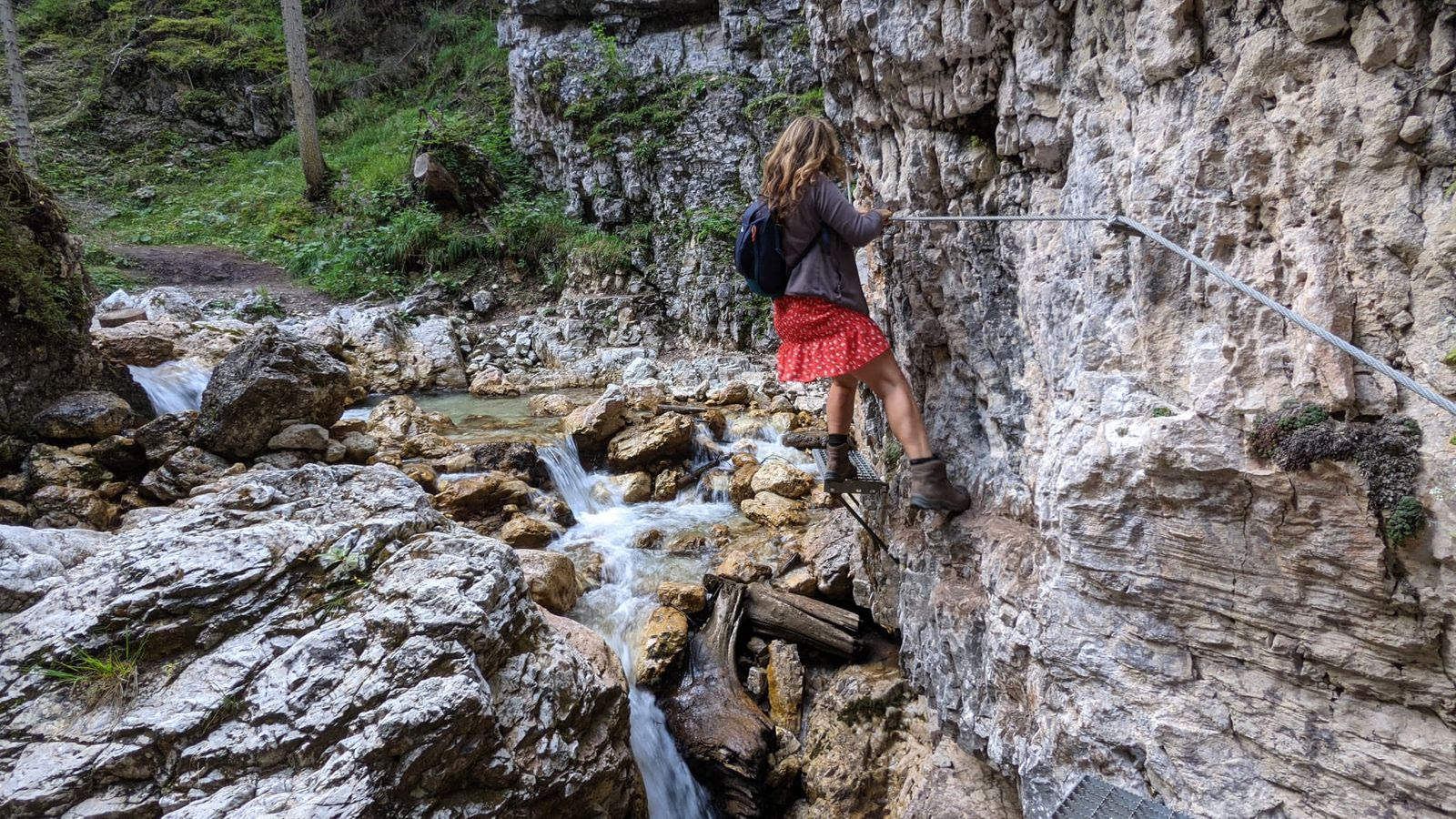 Julieta is a good sport! It's not as dangerous as it looks, though I might not be the best judge.
---
Sep 18, 2021
Heavens to Mergatroid! Yesterday's hike was challenging, with the most climbing I've done for a while. Super beautiful! Julieta left the day before to go back to Germany, so I'm fending for myself. Scary.
---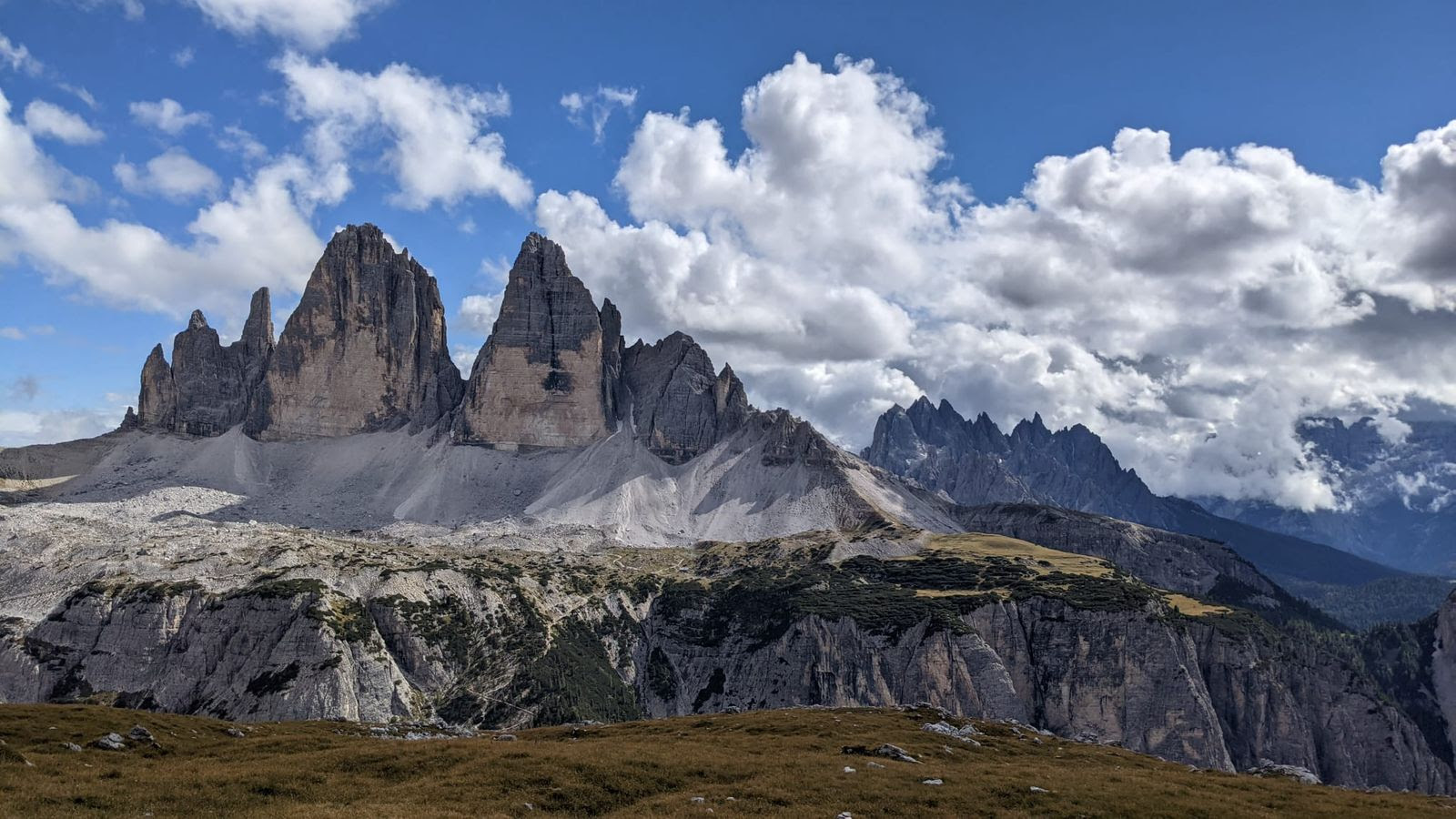 Another pic from yesterday. The Tre Cime peaks are the most famous rock formations in the Dolomites. And just now I'm starting on a new hike, brace yourself for more photos later.
---
Sep 20, 2021
It's supposed to rain this afternoon, so I'm doing a short walk through this valley, just up from where I've been wild camping the last couple nights. It works for me! I took so many nice photos my last walk that I couldn't settle on only a few to post, so I didn't post any. But they're coming...
---
These next few photos are from Saturday's hike. I'm surprised I hadn't done this hike before, because it's pretty spectacular. After a reasonably steep climb you come out to this plateau with impressive rock formations surrounding it.
---
This photo looks quite different but it's just to the right of the same area. You may be able to see the rifugio roof just peeking out at the center left of the photo.
---
This is the rifugio where I had lunch. They serve delicious hot Italian food, cold beer, espresso drinks and fresh pastries. Will I get used to this one day? Yeah, no, I don't think so. All the supplies for the restaurant are brought up on a cable from the start of the hike. Incredible.
---
There was a super steep descent where you need to hang on to a cable with one hand and your cojones with the other. I love these kind of hikes, but I was still surprised how challenging it was. The terrain was much more rugged on this side.
---
New hat, new glasses, new earbuds, and even a new head. Come on, look at it - that head didn't used to look like that. Must be a new version. I can't say it's an improvement.
---
Sep 21, 2021
I'm just starting out on one of my favorite hikes in the Dolomites, called the Val Fiscalina hike in my guide book. Last year I hiked it in full snow and it was brutal. In 2017 I hiked it with Julieta and we got lost and had to spend the night in a rifugio. Today it's sunny and beautiful, and no snow. Yay!
---
Sep 22, 2021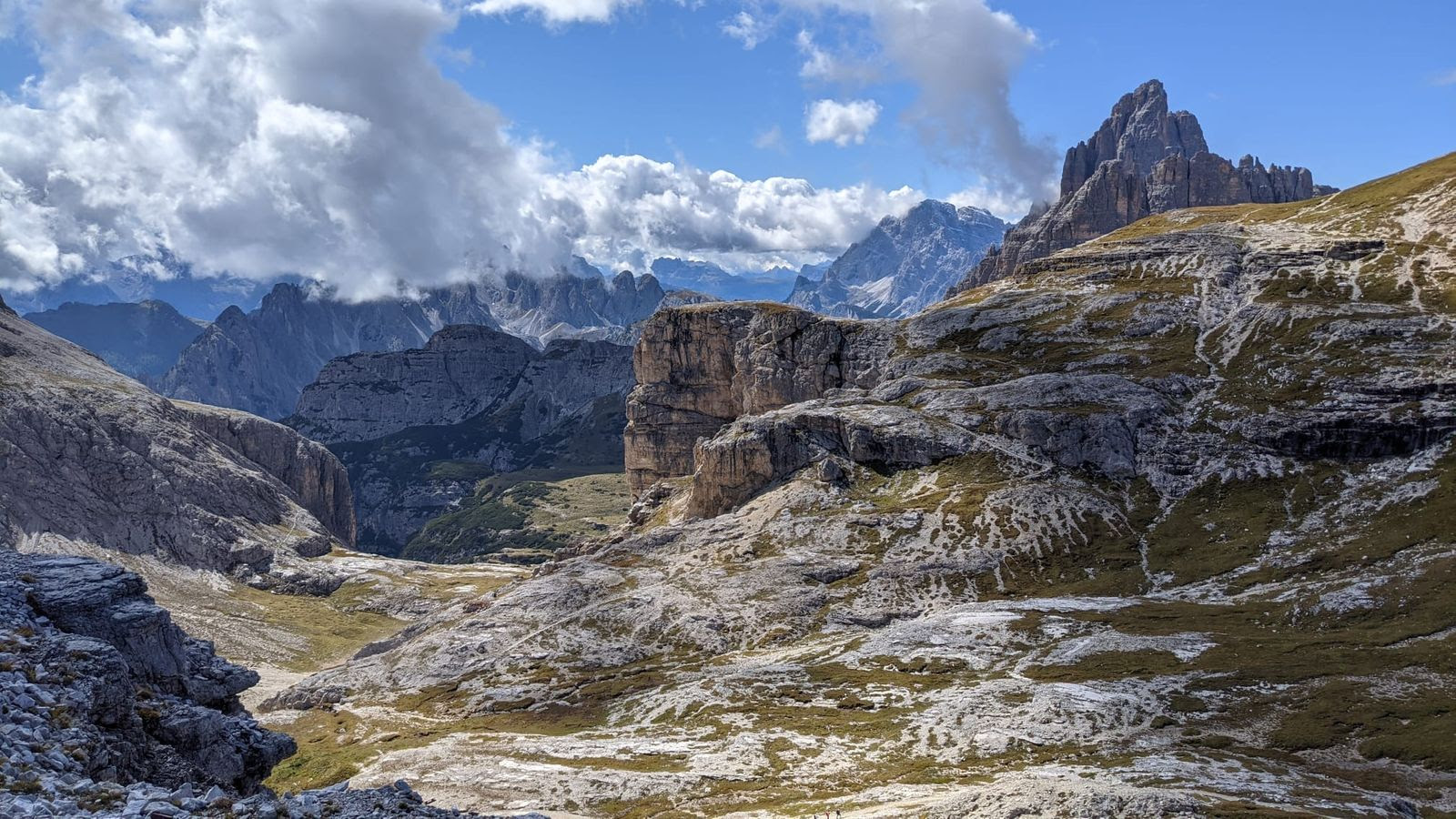 More photos from yesterday's hike, which was so much easier than hiking in the snow as I did in the past, but still a little ambitious for an old fart like me. Fortunately I was in good company because there are people of all ages hiking in these mountains!
---
Usually on a long hike at the halfway point I don't even realize that I'm using energy, and I feel great. As I'm finishing up the walk I'm feeling quite tired, and by the time I sit down in my van at the end, I could fall asleep literally in about 2 minutes. And yesterday that's what I did, taking a little nap in my van before I drove to get a pizza for dinner.
---
In the center of the photo is one of three rifugios on this hike. I had a really nice meal here. I don't even know where they get their food, because there's no drivable road here, and also no cable to bring up supplies. I think in a previous year I might have seen a 4x4 ATV type vehicle bringing supplies.
---
What a treat to come across these local guys, maybe employees of the rifugio, playing beautiful music. It sounded too good to be live at first. Any idea how old this song is? It's The Police, and I was surprised to read that it was released in 1978!
---
Ok, last pic for today. This is the famous Rifugio Locatelli, the third rifugio of the day, where I had apple strudel and a cold draft beer on tap. Are you kidding me? With that view?! Do you think I've raved enough about the rifugios in the Dolomites, cuz I don't! I'll let you know when I'm done. Ciao!!
---
Sep 23, 2021
Today's challenging hike started here. The hike is called Rifugio Vandelli Traverse, even though the highlight is the blue lake, named Lago Sorapis. An unfortunate name? Me thinks so.
---
Great views and some mad scrambles up the loose scree you can just see on the right. An Italian couple in their 20's didn't have a map or a clue where to go, and I was showing them the route. But she balked when the footing got treacherous and they went back. She was just getting started - it got much worse.
---
The famous lake with the unfamous name. It's one of the more popular hikes around here, which is why I hiked in reverse direction this time. It didn't really help. Beautiful weather, lots of people. It was my fifth time hiking this route. Ciao!
---
Sep 25, 2021
Yesterday's hike began here, as I'm looking up to Monte Lagazuoi. You can just make out a dark spot at the top of the mountain, a cable car station. My route is steeply up the loose scree to the left, out of view.
---
The view from the top is amazing. After a meal at the rifugio, I was tired and took the cable car down with the other old people!
---
An hour's drive later, I came across this view as I was heading to a different hike. Wow.
---
It's lunchtime on what is maybe my last Dolomites walk this season. Supposed to rain tomorrow, but I'm still from California, so walking becomes unlikely. It's a beautiful area, my first time in this area.
---
Sep 26, 2021
That looks kind of impossible. What did these rocks look like before they eroded into these formations? And why is it that I've never seen this before, with all the trips to the Dolomites I've taken? If you didn't tell me about this place, you're in trouble!
---
I didn't even hike to get up here, I took the tram. It was supposed to rain, so I didn't plan to do much walking at all, but when it cleared I decided to walk halfway down. An hour later I realized that I missed the last tram and had to walk the entire way down. Oops. I hiked up 230 meters and hiked down 1,500 meters. (That's 750 feet up, and 4,900 feet down.) I'm glad, at least, that all this hiking has gotten me into better shape.
---
Oct 4, 2021
I'm in Slovenia. Getting my 30-year-old van repaired isn't an event - it's a lifestyle!
---
Oct 8, 2021
I'm in Slovenia now, but this was my last and hardest hike in the Dolomites. The hike plan included a gondola that wasn't running, and after trudging up the steep hill for two hours and over the pass I came to the "Jimmi Hutte" rifugio, where I had lunch.
---
"Hey, I'm on vacation, I can do whatever I want!" And, as everyone knows, you don't gain weight on vacation. This is probably the least fattening dessert I've eaten in a month, and I rarely miss a chance to eat dessert.
---
Hiking uphill out of this big valley, you can just make out the rifugio in the lower right of the picture.
---
The landscape got rougher and wilder at the top of the next pass. You can see the path I had taken in the lower left of the photo.
---
After a long walk across a rocky moonscape, I came to this view at 4:30 p.m., not really knowing how much longer it would take me. I had to walk a long way to the right before taking the trail down into that valley, and then exiting the valley at the far distance. It was getting dark as I exited the valley, and it was completely dark for the last 2 hours of the walk. I'm glad I always pack a head torch.
(The End!)